Flags of Honour Foundation has been raising awareness for One Rank One Pension scheme, a four decade long pending demand by the Armed Forces for parity in pension according to rank regardless of the year of retirement.
Our founder Rajeev Chandrasekhar has been at the forefront of the endeavour taking up the issue within and outside Parliament. A first public event since the announcement of One Rank One Pension on 21 February 2014 was conducted under the banner of Flags of Honour Foundation. Veterans and ex-servicemen from all forces discussed and debated common points to take up with the government were debated at length.
On 20 February 2014, Flags of Honour Foundation organised an Open House on One Rank One Pension with an objective. "Let's take the OROP battle to its logical end & ensure its implemented" was held at the India International Centre, New Delhi. Senior veterans like Gen Kadyan, Maj. Gen. Satbir Singh, Col. Chaturved, Col. Kaul & many more attended the event.
With our founder Rajeev Chandrasekhar's long-standing endeavours and constant pressure on successive Governments at the center, One Rank One Pension was approved in 2014.
One Rank One Pension is now on the brink of implementation.
Flags of Honour Foundation went on ground and made citizens aware about the difficulties faced by Armed Forces soldiers in exercising their franchise under the existing systems of voting. Organising a citizens connect Flags of Honour Foundation urged the citizens young and old to step forward and support the demand for allowing Armed Forces Soldiers voting rights at their place of posting. Flyers with essential information were distributed across the city.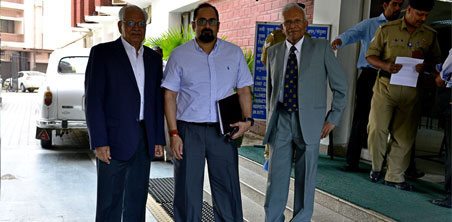 Flags of Honour Foundation organised a seminar in January 2014 at the India Islamic Cultural Centre in New Delhi to ensure civilian citizens understood the rights of the armed forces and how they could support their causes and concerns.  
Flags of Honour Foundation founder Rajeev Chandrasekhar filed a petition in the Supreme Court in February 2014 to ensure voting rights for not only the armed forces personnel, but also their families who are posted outside their hometowns and unable to cast their votes, thereby being deprived of their right to participate in the election process of the country. He also started a petition on Change.org to garner support so that those who defend the integrity and sovereignty of India are allowed to exercise their franchise in 2014. This received an overwhelming response that was presented to the Election Commission of India by Rajeev Chandrasekhar and a delegation of armed forces veterans.
March 2014 saw a victory for the endeavour when the Supreme Court ordered the Election Commission to facilitate voting rights for armed forces and not obstruct it. Armed forces personnel and their families stationed in peace areas since 1 January 2014 were considered as general voters and allowed to cast vote at their places of posting.  Flags of Honour Foundation continues to create awareness about the voting rights of soldiers posted in forward and field areas. The Petition filed by founder Rajeev Chandrasekhar is pending hearing on this aspect.

Flags of Honour Foundation along with founder Rajeev Chandrasekhar and Captain Kalia's father Dr. N.K. Kalia, filed a petition in UN Human Rights Council seeking independent investigations on the torture and death of CaptSaurabh Kalia and five jawans of the 4 Jat Regiment during the Kargil War in 1999.
The petition was filed on 7 December 2012 with Mr Juan E Mendez, Special Rapporteur on Torture, Office of High Commissioner of Human Rights, UN Office Geneva.
Rajeev Chandrasekhar first raised the issue in Parliament and followed this with a letter to Mr S.M. Krishna, the then Minister of External Affairs on 23 August 2012. He urged him to take up the case with UNHRC to declare this heinous act as a war crime and move the International Court of Justice to expose and pressurize Pakistan too identify and punish all the perpetrators of this brutal crime.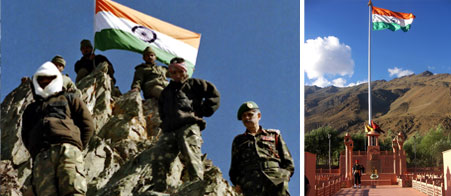 Background
On 15 May 1999 Capt Saurabh Kalia along with five Jawans - Arjun Ram, Bhanwar Lal Bagaria, Bhika Ram, Moola Ram and Naresh Singh had gone for a routine patrol of the Bajrang Post in the Kaksar sector when they were fired upon by Pakistan Army. They fought but ran out of ammunition and consequently captured alive by enemies. They were subjected to inhuman torture (as evident from their bodies and post mortem report) in captivity and killed. Pakistan Government then returned their mutilated dead bodies 09th June 1999. Recently, a petition in Supreme Court was also filed by Dr Kalia to seek justice for his martyr son and five soldiers.
Flags of Honour Foundation continues to pursue and support for justice for Captian Saurabh Kalia.